WHOLESALERS & RETAILER PROGRAM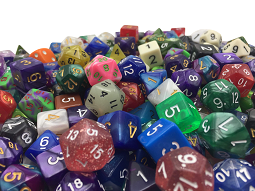 WOW your customers and make them buy!
Drive new foot traffic and make your customers eyes light up, and your cash register ring, when they see our unique and high-quality products.  If your store sells loose polyhedral dice, Magic the Gathering counters and accessories, complete sets, bulk packages or other RPG gaming products you owe it to yourself to sign up for our Retailer program for wholesale RPG dice. Contact us today and start buying bulk polyhedral dice online!


Some Benefits Include:
Get Exclusive Products Not Found in Distribution
Early Access to Limited Edition Products
Best Seller Highlights
Low Minimum Order Value Requirements
Sell What Your Customers Love!
Easy Ordering & Fast Shipping
Applying is Quick and Easy!
Simply send us an email to:
for more information now!
What Our Customers Are Saying
This has been quite possibly...
..... the best experience I have ever had ordering dice online. I bought the mystery bag set on a whim and got some really beautiful dice faster than I expected, and the correspondence is perfect for gamers. I love the storytelling, and the dice have served me well so far!
It's the Little Things That Matter
In a modern world where everything is available with a few button clicks, it's nice to feel valued as a customer. Skullsplitter is second to none in customer service, very responsive, and swifter than Odin's ravens. Order your dice from them with confidence and see if you don't feel better for it.
The dice are awesome
Not only are the dice lovely, the metal ones look fantastic, but even the emails about the dice are great. Fantastic shop, fantastic dice, and I will be buying more dice here. Many, many, many more dice...
Best dice source AND customer service!
I have not had a better experience buying dice online than with Skullsplitter dice. I will definitely order more!